May 10, 2010 chase account
This chase would mark the longest one-day, start-and-end-at-home chase and would probably count as a marathon chase. It would also be the first high-risk day I chased without TWISTEX. This was a long and frustrating day.
I knew this day would be big long in advance and had decided a few days prior to chase regardless. The day was a moderate risk on day 2 and was upgraded, with good cause, to a high risk the morning of. Strong, long-track tornadoes were deemed possible.
Ryan, Logan, and I left Ames at 9 AM and picked up Ricky in Des Moines on our way down I-35, with a general goal of Wichita or farther south/west by 4 PM. We were elated to see the PDS tornado watch issued. Things started happening earlier than anticipated, though. Leading up to this day, it looked like things were going to remain capped until late in the day, but the models trended towards a lessening cap as the day drew near. Thus initiation occurred earlier than had been previously predicted, and earlier than I had hoped. (One of my mistakes this day was not being ready to go until 9 AM. If only we had left 30 minutes earlier, perhaps things would've gone much better.) By the time we were screaming down the Kansas Turnpike, initiation had already occurred in northwest Oklahoma and southern/western Kansas. Two storms in particular had caught our attention: one was a developing monster supercell across the Oklahoma border, while the other was a storm to the north-northwest of the former one that looked less impressive, but was tornado warned for a time, and a storm for which we were better positioned to intercept. As we neared Wichita and had to make a decision as to what to do, the latter storm lost its tornado warning and began to look pretty crappy, and the monster supercell to our southwest continued to roar. Thus we made a decision to try to somehow get in front of that storm before it cut us off on I-35 (probably mistake number two for multiple reasons).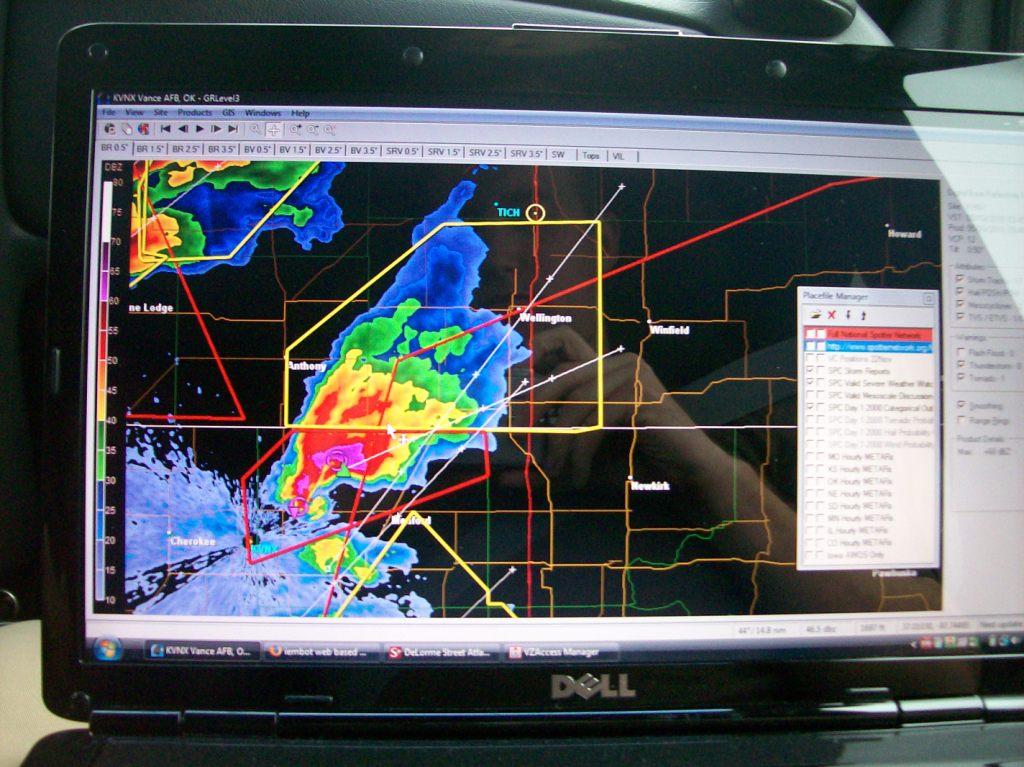 Laptop screenshot (of sorts) of us trying to beat out the supercell to U.S. 166, which was as far as we figured we'd get. Our position is indicated by the white bullseye near the top of the radar image.
Somehow, Ryan, who was driving, managed to zoom south and get us to U.S. 166 just a few miles north of the Oklahoma border. Between Wellington and there, hail had begun to fall, growing larger the farther south we got. Stones were intermittent, and we were driving too fast to really see any, but from some of the impacts on the windshield, it looked like the biggest one I saw was around or just bigger than 1" in diameter. We jetted east towards Arkansas City, stopping once or twice on the way to try to see the base of the storm. We couldn't due to a combination of poorly-placed trees and very low cloud bases. Since we never really made it into the full blown warm sector (we didn't see the sun until near sunset near Chanute) we were stuck under the stratus deck all day, which killed our visiblity of anything.
We decided to move east past Arkansas City. A few miles east of town, we neared a hilltop and decided to stop. Due to the trees all around us, we couldn't see much of anything, but winds had picked up greatly. We were experiencing inflow winds to the supercell that were probably 40 - 50 mph. Clouds just off the deck were absolutely screaming northwestward into the base of the storm. I climbed a pile of cinder blocks to see if I could see anything. I couldn't. After I got down, another chaser passed by and asked me if we had radar. I told him that we did and thought, of course, why wouldn't we? It didn't occur to me until a few minutes later that this chaser was probably trying to say something more like, do you have any idea the monster that is coming this way? Logan screamed at me, "We need to get the hell out of here!" We indeed moved east a few miles, having to deal with a local who didn't seem to understand the threat since he was moving at a nice leisurely 55 mph and took all day turning right at a stop sign, along the way. At our next stop that provided a much better view, we still couldn't see much due to the low cloud bases, but we saw two black walls of death, one to our WSW and the other to the NW. The situation had become rather hectic here because we were entering a rather rural area of southern Kansas and data coverage went to hell. I wasn't getting much for radar updates so I didn't know for sure what was what. I just didn't want to have to find out by being inside it. I now know (and this is what I suspected) that the tornadic area was to the NW, and the wall to our WSW was just the RFD, a very wet one. What happened is that the supercell cycled a few times between when it crossed the Oklahoma border and when it went through Arkansas City. In the images below, note that there are at least two areas of rotation and possibly a third area around that storm. At this second stop, the inflow winds continued to blow. It was hard to run/walk against it.
2154UTC 0.5° BR

2154UTC 0.5° SRV

2158UTC 0.5° BR

2158UTC 0.5° SRV

The white circles in the images above (all from KICT) are my best guess as to where we stopped when we experienced strong inflow. I'm not sure of the time we were there, so I don't know where we were at the times indicated in the images. We were pretty much stuck to the highway, as there were few through roads to get north.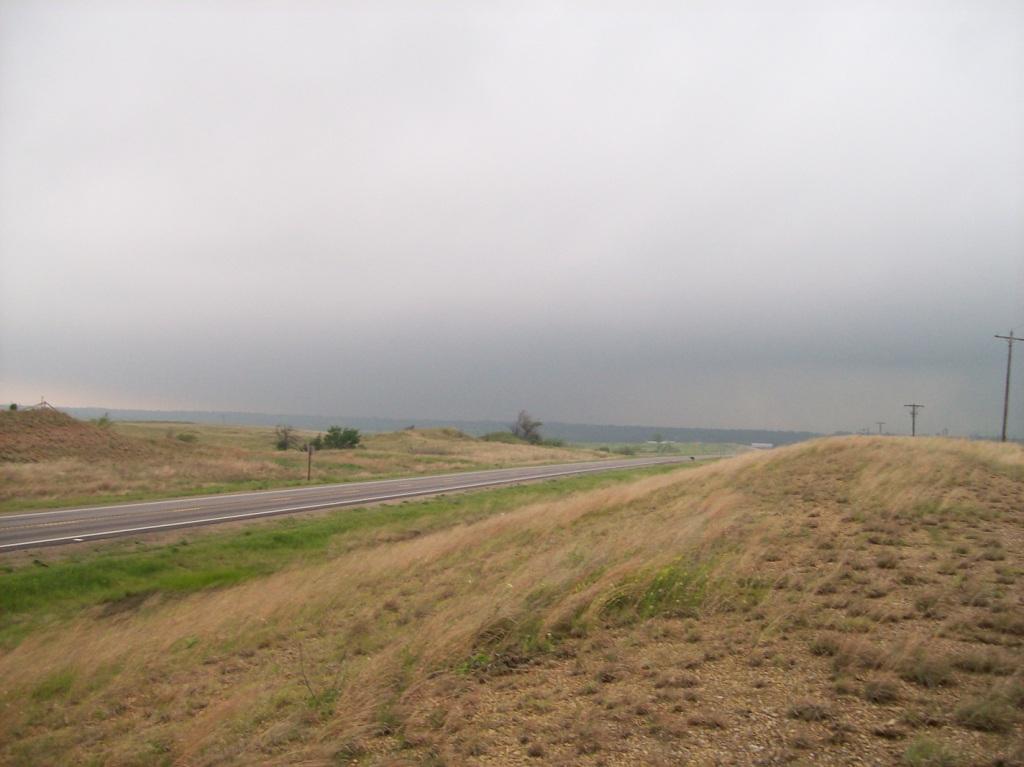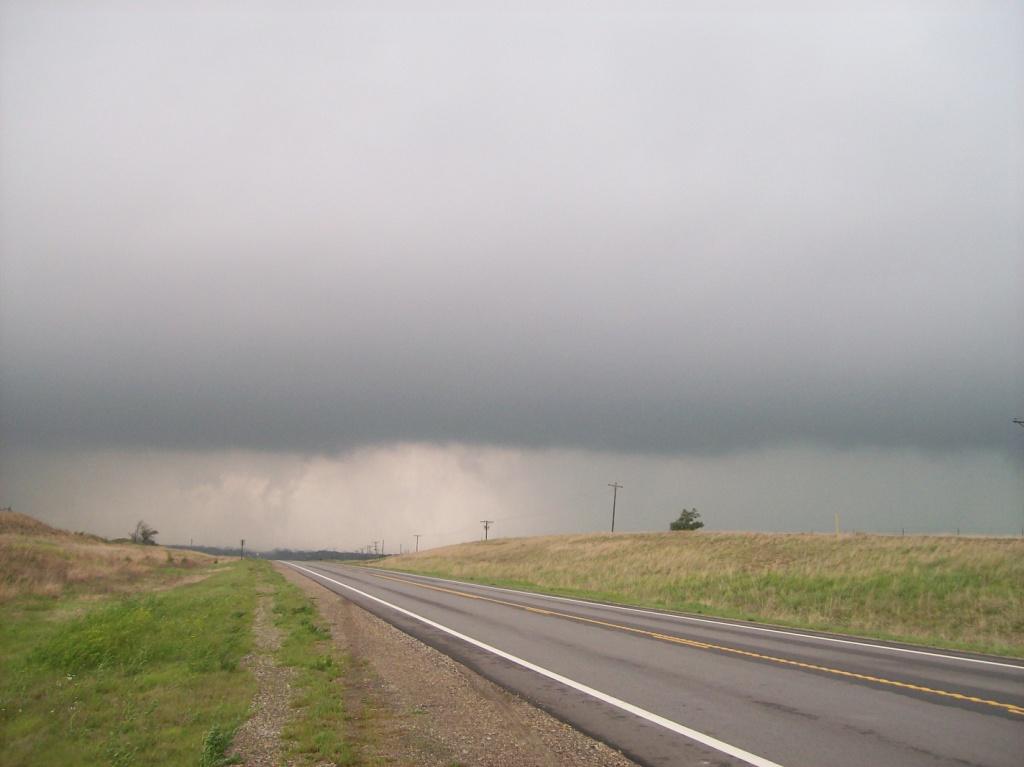 The two images above show pretty much all we could see. The top one shows the WSW wall of death, which was probably RFD. The bottom one shows part of the NW wall of death, which is probably where the rain wrapped tornado was (if there was even one on the ground). Also apparent is the vegetation bending over in the strong inflow winds.
We managed to find ourselves among one of the worst road networks and data coverage networks in Kansas. I wasn't getting radar updates anymore, but we tried to keep with the storm as it cruised northeast. We headed east on 166 until Delorme told me there were two main/paved roads up to U.S. 160, which would give us another great W-E option. So I told Ryan to turn onto the first one named "Road 8". Big mistake, but it's a good thing we were in Ryan's SUV. If we were in my car, I would not have been able to handle this road. As it is, we fishtailed and nearly lost it half a dozen times, but Ryan managed to keep us upright and moving, at times up to 70 mph, on this road. He showed off some great driving skill here.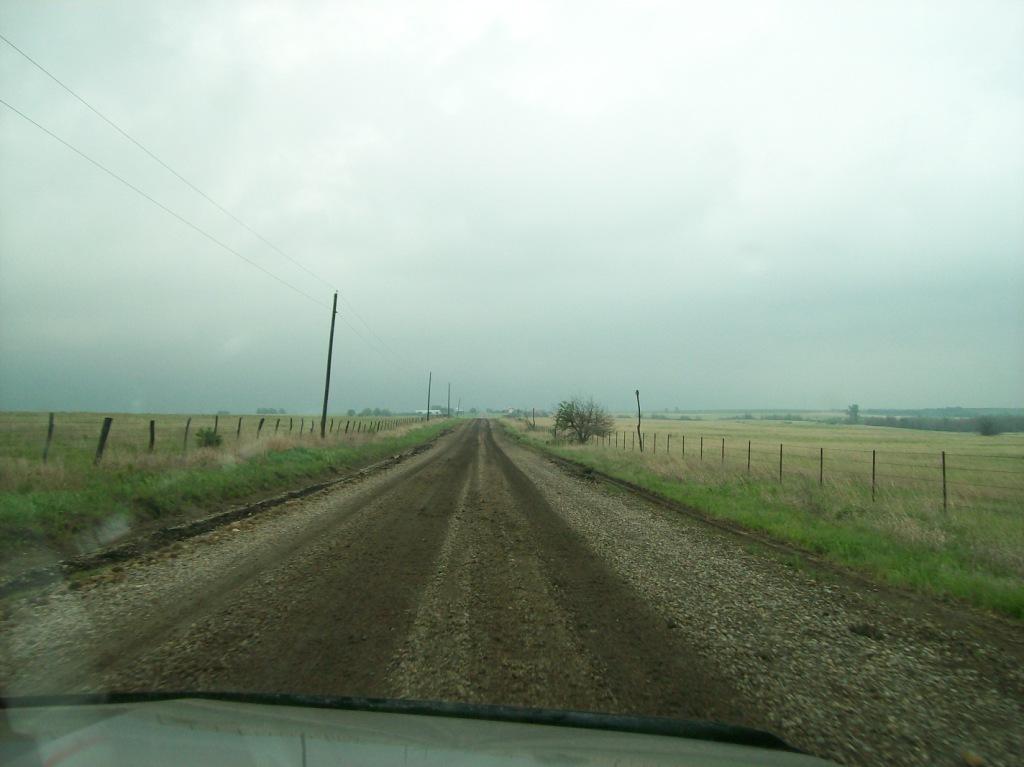 The fun road!
After a 30 minute ride of nearly defecating myself a handful of times, we popped out just west of Moline...and there was pretty much nothing left of the storm at that point, but we could only tell because we got some nowcasting help from Adam, who sat back in Ames. He was only able to raise Logan on the phone, as mine had completely crapped out by this time and was useless. We started up state highway 99, thinking we were done for the day and on the way home. Logan got another call from Adam and found out that there was another tornado warned cell to our southwest. If we booked it southeast, we might be able to see something after all. So we turned around from north of Howard (we never quite made it to Climax, KS) and went back through Moline on our way to Independence. Well, by the time we and the storm got there (we beat it!), it had joined the line of storms plowing east across southeast Kansas. Thus we got on U.S. 169 and headed north on our way home.
We stopped and ate at a Sonic in Chanute. I would like to take this time to thank Delorme Street Atlas 2009 Plus for pointing us in the wrong direction to find said Sonic, as it put the restaurant about 8 blocks north of where we found it. We also had to backtrack through town since there were only two exits off of 169 into Chanute, one of them being well south of town with an access road that we passed by before deciding to eat in town, the other on the north side of town, well north of where we wanted to go.
Of course we got to drive through rain pretty much all the way home from Kansas City. 1,010 miles and little to show for it on a marathon chase. I got home at about 2:30 AM. Yay.
---
Aside from the chase itself, there was a significant tornado outbreak this day, and I would say the high risk verified. See reports. It must be lovely to chase in Oklahoma, although I can say I've only done so once. There are four NEXRAD radar sites in the state, and tornadic supercells passed very close (the tornadic areas within 5 to 10 miles) to two of the sites. Below are some images taken from KVNX (Vance Air Force base in northern OK) and KTLX (Twin Lakes radar from just east of the Oklahoma City Metro area).
KVNX close call: This image PDF shows four panels of storm relative velocity from KVNX with times indicated. The storm motion vector used was about 250° and 40 kts. The first two show insane storm relative inflow winds of 70 - 80 knots at an elevation of only 100 - 300 feet above the radar horizontal! The actual velocities were about 35 - 45 kts, and these winds probably made it to the ground, so imagine the inflow chasers in the area probably experienced. The second pair shows the well formed and well resolved mesocyclonic/tornadic circulation. The image at 2102 UTC shows several consecutive range gates with gate-to-gate shear of 116 - 141 kts! If that wasn't impessive enough, check out the image below.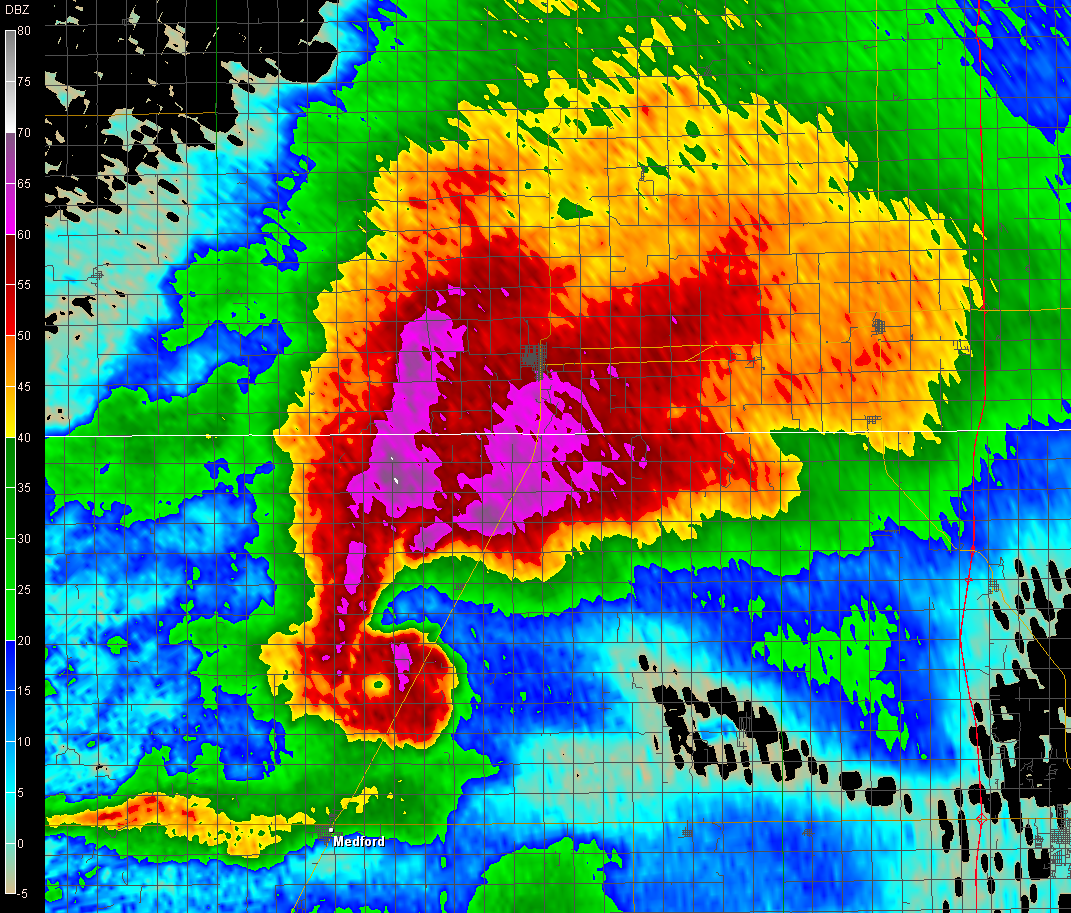 0.5° BR from KVNX at 2102 UTC. Interesting donut hole in the middle of the apex of the hook. The hole is about 22 nmi from the radar site, so adjancent azimuth gates are about 0.19 nmi (350 m) apart at this distance from the radar (the hole was the size of two radar bins stacked along one azimuth and two range gates). This very well could be the tornado itself that the radar is sampling, especially since reports say the tornado was a wedge around this time. The hole does not quite line up perfectly with the intense gate-to-gate shear couplets from the images in the PDF above, but it is very close, and the difference could be due to timing. There is a 17-second difference between the issuance of the 0.5° BR and the 0.5° BV product (SRV is post-processed and has the same timing as BV), which at 40 kts corresponds to about 1150 feet of movement, which would put the donut hole and the center of the gate-to-gate shear very very close (within one or two thousand feet). Caldwell, KS is the city in the middle of the FFD.

This next set of images is truly impressive. It shows up to FOUR tornadoes/funnels at or below the 0.5° beam from KTLX near Oklahoma City!
| | |
| --- | --- |
| 0.5° BR at 2231 UTC showing one possible tornado a few miles west-northwest of the KTLX site (circled in white). | |
| 1.9° BV at 2231 UTC showing awesome rotation of the possible tornado shown in the base reflectivity image above. I chose to show 1.9° instead of a lower tilt due to aliasing and other errors present below 1.9°. At a range of less than 5 nmi, the beam is only about 1800 ft above the radar at this location and at this tilt. | |
| 0.5° BR at 2239 UTC showing two possible tornadoes (circled in white). Interesting how one is embedded within precipitation while the other seems to be exposed. | |
| 0.5° BV image from just a few minutes later clearly showing the two tornadic circulations. | |
| 0.9° BR at 2246 UTC showing evidence of FOUR possible tornadoes now. Perhaps the two southern ones are really vortices revolving about a parent circulation. | |
| 0.5° BV at 2246 showing four funnels/vortices at or below this tilt (likely tornadoes). | |
| 0.5° spectrum width at 2246. Circled maxima in spectrum width indicating high turbulence and supporting the idea of there being four tornadoes on the ground (or at least four active funnel clouds) at the same time! | |
| One more interesting image: visible satellite at 2245 UTC showing the dryline and storms. Note the dust showing up behind the dryline. | |
This last set of images shows the extremely high values reached by some of the composite parameters and indices. I don't think I've ever seen values as high as these:

Return to 2010 - chasing home page