2010 Chase Season
(My most successful chase season to date)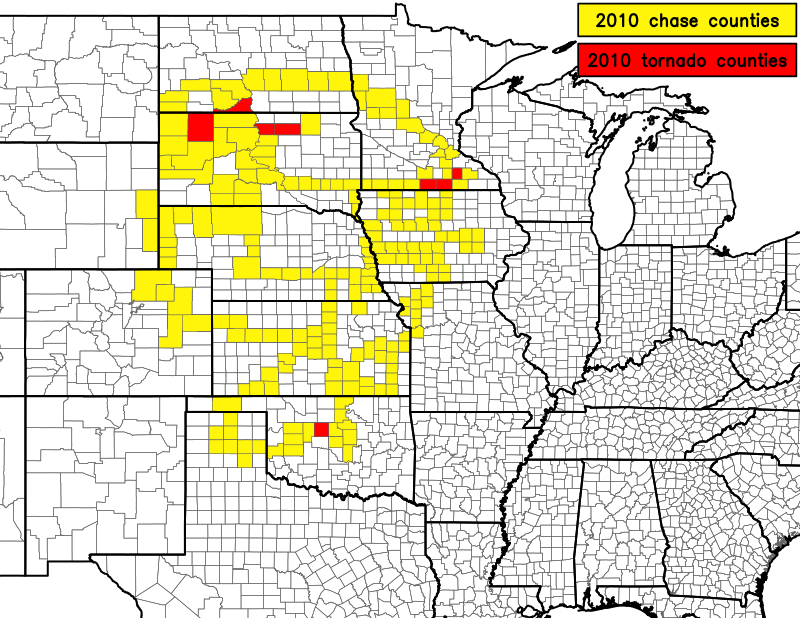 Season statistics:
Chases: 20
Tornadoes: 23
Tornado days: 4
Miles chased: ~11215
Cap busts: 3
States chased in: IA, MO, KS, NE, CO, OK, TX, WY, SD, ND, MN
Best day: June 17th (but May 22nd and May 24th are right on its heels)
---
As of the 2017 chase season, 2010 remains the best chase year I've ever had. For each statistic above, this year has the largest value of my career. 2010 also provided my #1 all-time chase, and the most top 5 chases of my career.
This was the first year I had data while on the road and had GPS.
2010 summary: I scored my first April cap bust in Missouri (I pronounce it "Misery"). South Dakota became my favorite state to chase in since it gave me two wedges, including the Bowdle EF4, which is the biggest and most violent tornado I've ever seen, and about two-thirds of the total tornadoes I saw this year. Then came June 17th for the second year in a row. I saw 9 tornadoes that day including another EF4 tornado and a number of EF3 tornadoes! Although I did not actually chase on June 5th (the day I got married), I did have a tornadic supercell pass right over my head during my reception in Peoria, IL!
I have decided to use a new graduated scale for busting. Chase busts will now be rated on a spectrum from low-end bust to high-end bust. A low-end bust would be like seeing convection, but not seeing any severe weather. A blue-sky cap bust would be near the highest end of the high-end busts. On that note, I decided to stop chasing at the end of June after four straight busts following the amazing June 17th chase. Well...
---
Featured chases
April 6

April 23

May 10

May 18-19

May 21

May 22
#3 chase

May 24
#5 chase

June 1

June 17
#1 chase

June 18

June 22

June 26

July 14

---
Other chases
April 5
The 2010 chase season started with a cap bust in NW MO. Hard to believe one could cap bust in early April this far north, but alas, we did. It's too bad, too, because there was excellent instability and shear for the location. The synoptic setup included a warm front aligned near the IA-MO border that lifted slowly north. Numerous elevated storms, some supecellular, dumped some very large hail on portions of southern and central Iowa. There was a low amplitude, large wavelength trough, the axis of which was still well within the Intermountain West region of UT/NV/CO by 00Z of the chase day, so large scale lift was completely absent.


May 28-29
I took no pictures during the entire two day sequence. That's because there was nothing to take a picture of. The 28th was a major cap bust in the Dakotas/Montana, the risk of which was well known ahead of time. Instability was very high, and shear was good, too, and since a tornadic supercell did fire in Montana the day before, that was enough to sucker everyone up there the next day for a possible repeat performance. Obviously, that did not happen. While storms did finally fire on the 29th, they were all post frontal. Strangely enough, however, the temperature and moisture gradient immediately behind the front were not tight enough to completely eliminate surface based instability, and with the northwest winds behind the front, low level shear increased such that one storm that fired actually did go supercellular and was tornado warned briefly, but it did not produce any tornadoes. In the end, Chris and I ended up driving a nearly 1,800 mile loop around the high plains and we never saw a raindrop:




View Larger Map

June 20
I had known of the potential for this day to be a big severe weather day a few days in advance. However, as time went on, the progs looked worse and worse for it. In fact, by the time I got up in the morning and looked at things, I knew I was going to need some convincing to even go out. I got some convincing from new acquaintance Darrin Rasberry and from the HRRR which, despite what the late morning observations in the area were deeming possible, showed some discrete storms developing over the Missouri River near Omaha by late afternoon. Thus I went west on I-80 with him and Ryan, leaving in the early afternoon. We ended up going for a Beatrice target since it was far enough south to be out from under the persistent cloud deck that was a result of persistent backbuilding showers and storms right over Omaha. However, as we drove out there, it became pretty clear that we would have to continue well down into Kansas to even have a shot at seeing anything. Due to a late start on the chase and the fact that I didn't want to drive all the way out to north-central Kansas for a marginal risk, we essentially ended up driving to the Arbys in Beatrice, eating, then driving home. On our way home, numerous elevated storms went up between Lincoln, Plattsmouth, and Omaha. These storms featured some good cloud-to-ground lightning and some large hail. Thus we spent an extra two hours on our way home trying to core punch the stronger ones. All we ever saw was a ton of heavy rain and some good CGs, but none that I could get on camera. This was a moderate bust.


August 11
This would mark my first August chase. Targeted the Ft. Dodge/Webster City/Eagle grove area. Instability was great, but shear dwindled throughout the day so that the storms that did form did not remain discrete for long and became outflow dominant almost immediately. Observed some high winds and wind damage in Eagle Grove and plenty of cloud-to-ground lightning. These storms would congeal into a weak MCS that would train over Ames and cause historic flash flooding and water use issues for the city for the next week. Chase image of the day


September 15
A late-summer shortwave moved east across the Dakotas, but overnight convection in KS and MO that continued into the early evening hours disrupted the southerly low level flow in the target area (NW IA) as well as instability. Thus, the coverage of convection was limited to the north, but there were a couple tornadic HP supercells in KS. This was my first September chase.


Return to storm chasing home page.