2012 Chase Season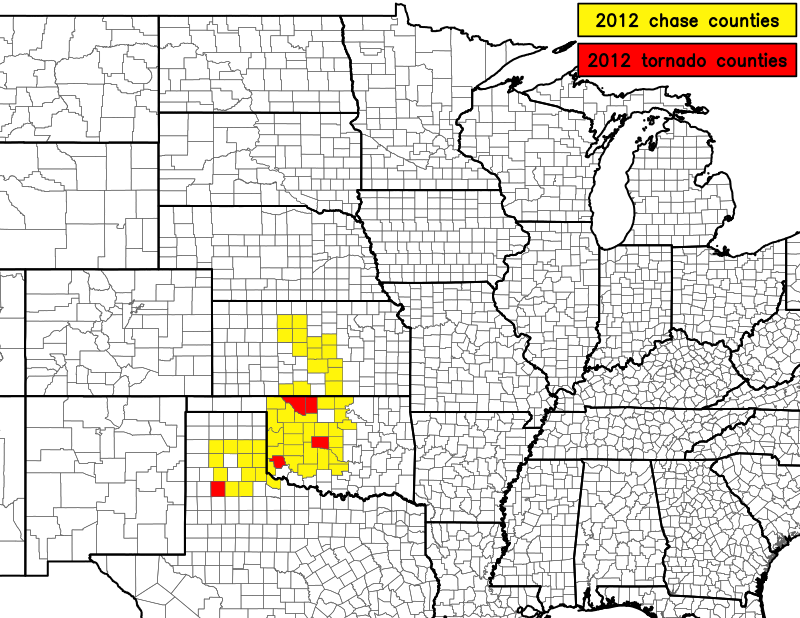 Season statistics:
Chases: 10
Tornadoes: 9
Tornado days: 4
Miles chased: ~3935
Cap busts: 0
States chased in: KS, OK, TX
Best day: April 14
---
First chase year in a new home and a new region. A lot of new chase territory to explore. The year started off quite successful, but things waned after the high risk chase in April. May was very quiet in terms of tornado activity in the traditional Great Plains. In fact, save for four chases on four consecutive days (two of which were unplanned and within 100 miles of Norman) I didn't chase at all that month, although I missed one or two events that drove me nuts (May 25th in Kansas being one of them)! June was also very quiet. Managed to get a tornado in October in Texas to cap off the year.
I upgraded my video camera and phone, which altered my chasing strategies.
---
Featured chases
March 18

April 13

April 14

May 29

October 12

---
Other chases
April 19
I never planned to chase this day until about 8 PM when a few strong storms blew up just south and west of Norman. There was only a slight risk with a 2% tornado probability after all. I headed towards Blanchard and initially stopped a few miles southwest of town on highway 9/62 to try to catch some lightning photos from a strong storm to my immediate west. Unfortunately, due to increasing darkness and my lack of familiarity with the area, I wasn't willing to walk through shin high grass to get to the fence during April in Oklahoma...not knowing if a snake or some other creature was lurking, waiting for me to step nearby so it could kill me. Thus I settled on the road surface. Even so, I had gotten too close to the storm, and the best CGs were hiding behind the rain, so I could get no lightning shots. Really unsure what to do, I continued towards Chickasha to try to get under a hail core. Then I went right back to Blanchard after it seemed the hail core had weakened or moved a different direction. I turned back once more at Blanchard and eventually found myself in a core containing very heavy rain with sub-severe hail just southwest of town. I tried to stay with it by moving east to Cole, but appeared to lose it (I didn't feel safe keeping my eye on my phone that was running PYKL3 while driving alone in the dark on unfamiliar and wet secondary roads). Nevertheless I emerged out of the precip and found myself at the intersection of highways 74 and 74B just south of Goldsby. To my surprise I had actually outrun the storm, which was still raging, but now slightly to my southwest. I led it to Purcell where I let it overtake me on the north side of town. I was "rewarded" with a 1-minute deluge of very heavy pea to nickel hail.
May 27
I had wanted to chase the Friday before this (May 25) all week, but couldn't due to a last minute scheduling conflict. Feeling I needed to make up for that, I decided to chase this day. The target was almost the exact same location in central Kansas. However, moisture was less rich than two days prior, and the good shear didn't make it until right around sunset. Mason and I initially targeted Great Bend. We then traveled north through Russell as weak storms developed north and west of us. Nothing could really organize or sustain itself. We made it to Plainsville before turning south and winding up in Hays. We drifted a few miles west of Hays on old U.S. 40 (a nice confusing drive) to try to catch two cores. One of them produced very heavy rain and sub-severe hail. That was really the highlight of the chase. We left Hays around 7:45 just as the only real supercells of the day in Kansas decided to finally develop and slowly organize. We could see one of them develop a wall cloud from 25 miles away in our rear view mirror as we headed home. From the pictures I saw later on, I can tell we didn't miss much structure despite the fact that two storms moved northeast across our previous chase area for a few hours after sunset. We listened to Game 1 of the Western Conference Finals (the OKC Thunder beat the Spurs to make it to the NBA Finals, but then lost to Miami) on AM radio on the way back to Norman.
May 28
I never planned to chase this day either. The cold front from the previous day stretched across the area with upper 60s dewpoints and low 90s temperatures, so there was huge CAPE, but meager shear. I decided to leave Norman at about 5:30 as a strong storm went up southwest of town. I'll let the following PowerPoint slideshow take you the rest of the way through this account.

PPT: images and rest of account
May 30
This day was initially thought to be the best day among the two-day sequence of the 29th and 30th. At least, SPC thought so.
May 29th Day 1
May 30th Day 1
Even though Mason and I chose the wrong target (NW OK) over NW TX, where a few marginally tornadic supercells occurred, I don't think this day beat the previous day's event. The structure was much better the day before. Anyway, we got to Woodward before we realized we were not going to see anything in NW OK/SW KS. We tried dropping south in W OK, but only made it to about Elk City before crapvection effectively screwed the rest of SW OK. The storms in the TX panhandle died early, and the supercells to the south were moving south, so we had little chance of catching them before dark or before they disorganized. So we headed home on state highway 152/37, staying away from I-40 for no reason.
An MCS did form in KS and shove south through OK during the late evening, but it was largely underwhelming and didn't produce much severe wind in Oklahoma. Contrast that with the wind-driven hail storm that struck Norman the night before, and the 29th was clearly a more interesting severe weather day.
October 13
This was supposed to be the big day for a potent early fall setup. It ended up underwhelming, probably due to poor directional shear. I left Norman at around 1:30 PM just as intense convection was blossoming in southwest OK. I headed west on highway 37 towards Binger, where I hoped to get before the storms did. We pretty much arrived at Binger simultaneously. The storms looked pretty junky, but I saw what could've been a weak wall cloud buried behind the gust front, which was surging. I knew there would be no imminent tornado threat from this part of the line, so I dove south to stay ahead of it. The whole way south towards Anadarko the line had a decent shelf, but it was pretty obviously being undercut by cold outflow. Once I got to Anadarko, I couldn't commit to a storm for more than a few mintues before it would look like crap on radar. I ended up in Chickasha, then decided to go after a storm back to the west, which was about 15 miles WSW of Andarko at the time it captured my interest. I sped west on U.S. 62 as I drove under a torrential downpour which caused 62 to become a skating rink. Even at 55 mph, I was hydroplaning noticeably. I finally got into great position a few miles east of Anadarko. There was a lowering with possibly some slight rotation moving northeast quickly. This was the most interesting part of the chase. The wall cloud did not organize further, however, and I lost it in the storm as it flew northeast at a speedy clip. Finding myself near Amber, I decided to make one last effort to intercept a storm that was coming out of Texas and had been tornado warned by Wichita Falls. It was flying ENE at probably 60 mph, and I simply could not keep pace with it. I decided to give up when I reached I-35 and determined I wouldn't have enough time to get to the storm.
Return to storm chasing home page.