2009 Chase Season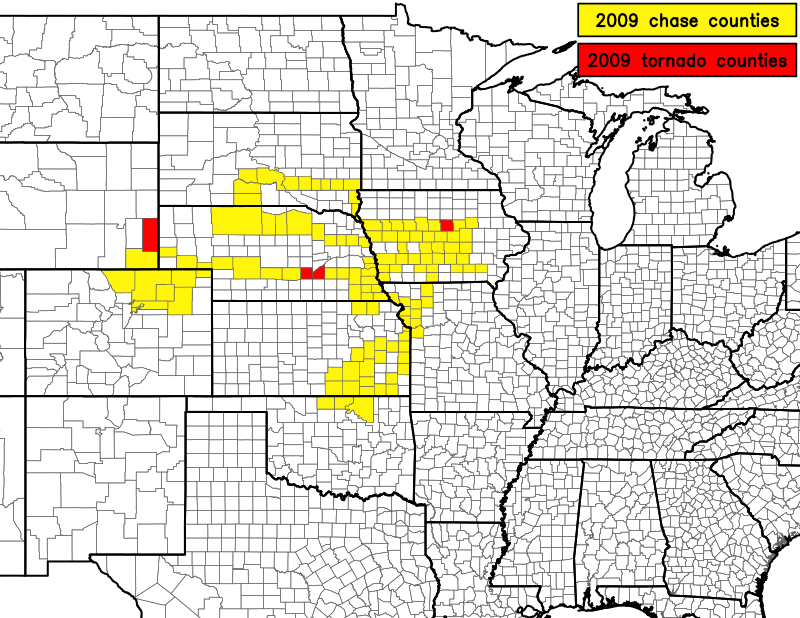 Season statistics:
Chases: 14
Tornadoes: 4
Tornado days: 3
Miles chased: ~7510
Cap busts: 2
States chased in: IA, NE, KS, MO, WY
Best day: June 17th with June 5th a close second
---
2009 summary: Despite being an average to below average year for tornadoes and severe weather in general, 2009 has been quite successful for me, but I've had to work hard to obtain the successes that I've had.
The season started with two busts that occurred in Iowa in late April and early May, followed by two more busts in mid-late May. Unfortunately, I missed the Kirksville tornado, but if I could trade in some other tornado day this season to get that one, I wouldn't. In early June, I joined the TWISTEX project for a week and witnessed the June 5th Wyoming tornado and the monster hail supercell day in KS/NE/MO on June 7th. I managed to see some of the tornadoes produced by the Grand Island/Aurora supercell on June 17th, a chase in which a late-day gamble paid off. I then had several busts in the following days, followed by a weird, but somewhat successful, chase in north central Iowa on June 21st, but followed again by another bust on the 26th in South Dakota and Nebraska.
---
April 26

May 7

May 15

May 31

June 5

June 6

June 7

June 9

June 17
#4 chase

June 18

June 19

June 21

June 26

July 14

Return to storm chasing home page.